さて、エストニアの情報教育事情をお伝えしてまいりましたが 最終回は すべての方に知っていただきたく公開いたしました。
経済協力開発機構(OECD)が 2019年12月3日に国際的な学習到達度調査「PISA2018」の結果を発表いたしました。参加国の中で日本は「読解力」15位(前回8位)「数学的リテラシー」6位(前回5位)「科学的リテラシー」5位(前回2位)といずれも前回調査時より低下。「読解力」は、調査開始以来過去最低となりました。資料をごらんください。ただ気をつけていただきたいのは この数字に惑わされてはいけません。
-PISAランキング
*1ページ上段:2018年度結果、1ページ下段:2015年度結果
*Sorry for only Japanese
OECDのPISA2018調査には 79カ国・地域の15歳の生徒約60万人が参加し、「読解力」「科学」「数学」のテストを受けました。今回の焦点は「読解力」に当てられており より詳細な分析をしています。ほとんどの生徒がコンピュータを使って回答しました。
OECD諸国の生徒の4人に1人は、最も基本的な読解問題も解くことができず したがって不安定さを増すデジタル社会において生き抜く方法を見つけるのに苦戦することになります。これは 学校制度の質 公平性 効率を評価するOECDのPISA調査の最新結果から明らかになりました。
ほとんどの国々 特に先進諸国では 過去10年間に教育機関への支出が15%増えているにもかかわらず 成績はほとんど改善していません。「読解力」では 北京・上海・江蘇省・浙江省(中国)シンガポールの点数がその他の国々より有意に高くなりました。OECD諸国中トップだったのは エストニア カナダ フィンランド アイルランドでした。
ニュースではあまり伝えておりませんが 「PISA」はこれまでの筆記による調査を 2015年度からコンピューターを使った調査へと移行しています。日本の参加生徒の「読解力」が低位に甘んじたのは 紙ではないコンピュータ上の複数の画面から情報を取り出し 考察しながら解答する問題などに戸惑いがあったのではないかと思っております。
「読解力」の向上に向けて 語彙力の強化 文章を読むプロセスに着目した学習の充実といった国語教育の充実に加えて 情報活用に関する指導やコンピュータを活用した指導への対応と ICT環境整備の推進などにも力を入れていく必要があるようです。
さて、ここで質問です。
なぜバルト三国の小国・エストニアがPISAで高い位置をキープ出来ているのでしょうか?
確かに日本もシンガポール・フィンランド・マカオ(中国)・カナダなどと肩を並べています。注目したいのは、資料2ページにある「1人当たりGDP」です。直近の2018年(右列)では上記諸外国は20位以内に入っています。エストニアは42位。決して豊かでないエストニアがなぜこれだけPISA結果では上位にあるのでしょうか?そのエストニアは2010年以前は40台どころか圏外にありました。この10年あまりのうちに1人当たりGDPも上昇しているのです。
当センターがエストニアの教育、特に情報教育の成果に注目しているのは、この点なのです。
エストニアは情報教育に国をあげて取り組んできました。今年9月、当センターでは、若い起業家、情報科学を学ぶ大学生などとともに 首都タリンならびに文教都市タルトゥの小学校~大学までを視察し 関係者と懇談いたしました。感じたのはエストニア政府のデジタル国家へまい進する強い意思と国民全体の意識の高さです。彼らは生きるために英語と情報教育を「道具」として学んでいます。
情報教育に関して、両国の相違点を2つ挙げたいと思います。
①
「プロ

グラミング教育」が2020年度から採り入れられますが 文科省の「小学校のプログラミング教育の手引き」を読むと 4年生からの指導例にプログラミングの文字が躍っています。統合する教科として算数・理科・社会・音楽・家庭科・総合的な学習の時間で実施するとされています。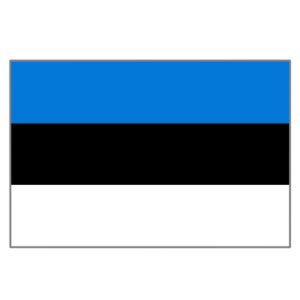 「プログラミング」は情報教育の一部でしかありません。その「入り口」として3つのトピック(デジタルアート、コード(書き込み)、デジタルセキュリティ)が系統立てられ 小学1年生から3年生まで 平均して各学年30時間学びます。特に日本の「図工」に当たる科目に その3分の1を当てています。
②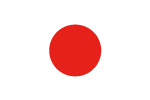 戦後 全国のすべての小学生に均一の教育を等しく授けるという命題を履行してきました。その結果 高い教育水準を維持してきました。教員はプログラミング教育にあたるため 研修や研鑽を積んでいます。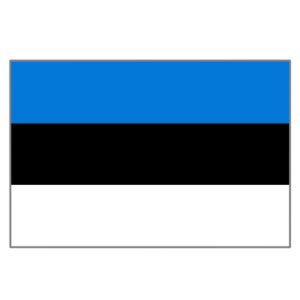 ITに関して優れた あるいは突出した才能をもった児童・生徒については 教員側にも彼らの才能を伸ばそうという意識があります。才能のある優れた児童や生徒には 特典が与えられる IT studentとして 教員の代わりをすることがあります。教員がプログラミングについてすべてを知っている必要はないというスタンスです。
エストニアには日本のような文科省はありません。教育をあつかう「教育研究省」は単にカリキュラムのガイドラインを決めるだけにとどまっています。各学校および教員が主体的に教育内容を決め それに責任を持っているのです。
最後になりましたが お伝えしたいことがございます。
エストニアの教員がプログラミングについてすべてを知っている必要はないということを述べましたが 情報教育に関してバイブルともいうべき「教員マニュアル」はあります。当センターでは タルトゥ大学などエストニアの教育機関のご協力をいただき「日本語版」を作成中です。ご関心のある方はご連絡ください。
また「プログラミング的思考」を育むことも プログラミング教育のねらいの1つであると文科省では話しています。エストニアをはじめとするヨーロッパの先生方は この力を鍛えるための方策を十数年前からワンチームで研究・実践してきました。この点についても日本はもっと「光」をあてる必要があるのだと思います。
長い間お読みいただきありがとうございました。エストニアの徹底した情報教育への取り組みと今後の見通しについて まだ語り尽くせていません。またいつかお話しできればと思っています。
【English Version】
Now that we have reported on the situation of information education in Estonia, the final episode has been released for everyone to know.
The Organization for Economic Co-operation and Development (OECD) announced the results of the international learning achievement survey "PISA2018" on the 3rd December, 2019. Among the participating countries, Japan ranked 15th in "Reading Comprehension" (8th in the previous survey), 6th in "Mathematical Literacy" (5th in the previous survey), and 5th in "Scientific Literacy" (2nd in the previous survey). . "Reading ability" has been the lowest since the survey began. Please see the document. Just be careful, don't be fooled by this number.
-PISAランキング
*Sprry for only Japanese
* Top : 2018 results, Middle: 2015 results
Bottom:GDP per person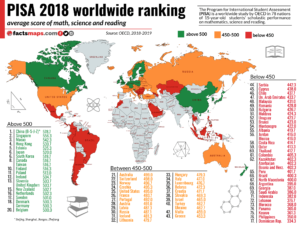 About 600,000 15-year-old students from 79 countries / regions participated in the OECD PISA2018 survey, and they took tests of reading comprehension, science, and mathematics. This time the focus is on "reading comprehension" and a more detailed analysis. Most students answered by using a computer.
One in four OECD students is unable to solve the most basic reading problems, and will therefore have much difficulty in finding a way to survive in a digital society that is getting increasingly unstable. This was made clear from the latest results of the OECD PISA survey that evaluates the quality of the school system, fairness and efficiency.
In most countries, especially in developed countries, despite a 15% increase in spending on educational institutions over the past decade, results have hardly improved. In terms of reading comprehension, Beijing, Shanghai, Jiangsu, Zhejiang (China) and Singapore scored significantly higher than other countries. The top OECD countries were Estonia, Canada, Finland and Ireland.
Although not reported much in the news, "PISA" has been shifting from a written survey so far to a survey using computers since FY2015. I think the reason why the reading comprehension of participating students in Japan was so low was that there was a problem with the questions to answer while taking out information from multiple screens on a computer that is not paper.
Improving vocabulary for improving reading comprehension In addition to enhancement of Japanese language education such as enhancement of learning focusing on the process of reading sentences, support for guidance on information utilization and guidance using computers and promotion of ICT environment maintenance It seems that it is necessary to put effort into such.
Now here is the question.
Why is Baltic's small country, Estonia, keeping a high position in PISA?
Certainly, Japan is also in line with Singapore, Finland, Macau (China), Canada, etc. What I want to pay attention to is "GDP per capita" on page 2. In the most recent 2018 (right column), the above countries are in the 20th place. Estonia is 42nd. Why is Estonia that is never rich enough in the PISA results?
This is why the Centre is focusing on the achievements of Estonian education, especially information education.
Estonia has been working on information education nationwide. In September of this year, the Centre visited young people entrepreneurs and university students studying information science from the elementary school to the university in the capital city of Tallinn and the cultural city of Tartu and talked with relevant parties. What I felt was the strong intention of the Estonian government to move toward the digital state and the high awareness of the entire nation.
So I would like to mention two differences between Japan and Estonia.
①


"Programming education" will be adopted from FY2020 and basically starts in the 4th grade. The word "programming" is often used in teaching examples in 'Guide to Programming Education for elementary schools' editted by the Ministry of Education. It is said that it will be implemented in the time of arithmetic, science, society, music, home economics, and comprehensive study as an integrated subject.
"Programming" is only part of information education. Three topics (digital art, code (writing), digital security) are systematized as the "entrance". From the first grade to the third grade, students learn on average 30 hours each grade. In particular, one-third of the subjects are subject to Japanese "arts and crafts".
②


After the war, we have implemented the proposition of giving uniform education equally to all elementary school students across the country. As a result, we have maintained a high level of education. Teachers are training and studying for programming education.
For students with excellent or outstanding IT skills, teachers are also conscious of developing their talents. As an IT student, you may be able to take the place of a teacher as an IT student. The stance is that teachers do not have to know everything about programming.
Estonia has no Ministry of Education like Japan. The "Ministry of Education and Research", which deals with education, only determines curriculum guidelines. Each school and its teachers are responsible for determining the contents of education.
Last but not least, I want to tell you.
I mentioned that Estonian teachers don't have to know everything about programming, but there is a "teachers' manual" that should be called a Bible regarding information education. The Centre is working on a "Japanese version" in cooperation with Estonian educational institutions such as Tartu University. Please get contact with me if you are interested in it.
In addition, the Ministry of Education, Culture, Sports, Science and Technology says that fostering "computational  thinking" is one of the aims of programming education. Teachers from Europe, including Estonia, have been researching and practicing measures to train this power as One Team over a decade. I think that Japan needs to shed more light on this point.
Thank you for reading for a long time. We haven't yet talked about Estonia's thorough information education efforts and future prospects. I hope to talk again someday.