Joshinetsu National Park – Shiga Kogen Official Site
Why not spend the Christmas holidays 2023-2024 in Japan?
Your host family will pick you up at Haneda or Narita Airport on 2 Jan.
You experience 3-day/2-night homestay in Tokyo or the surrounding area from 2 Jan.
You enjoy Skiing Camp at Shiga Kogen Highlands from 4th to 7th.
On the evening of the 7th, you will be dropped off at Haneda or Narita Airport from Tokyo Station.
If you wish, you can continue your trip further in Japan. Contact us via the contact page on this website.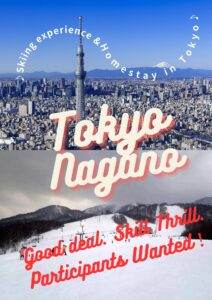 【Participants】
Year 9-12 students who are Australian citizens and attend an Australian school
【Accommodation】
A hotel in Shiga Kogen Highlands
【Itinerary】2-7 January, 2024
2nd January, 2024… Arrival at Narita or Haneda (Tokyo)
2nd-4th …Homestay in Tokyo Area
4th 08:30 … Tokyo Station 🚄 Nagano Station
4th – 7th… Shigakogen Highlands
7th Disolution at Narita or Haneda
Option (Free Plan) plus some more days
*Instruction in English by experienced Japanese uni student skiers
【Fee】1,950AUD (Excludes round-trip airfare and travel insurance)
☞if you want more information, please get contact with us.
【Deadline for receipt of applications】 03 November, 2023