これまで一部で行われていた 「オンライン授業」や「テレワーク」などの流れが 新型コロナの副次的な産物として 怒涛のように日本に押し寄せています。これは不可逆的な生活様式として日本に定着していくのは必然です。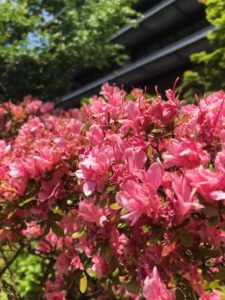 昨年 教育の地域格差を少しでも是正しようと始めた当センターの「オンライン寺子屋」ですが 学校休校をうけて 各地で同じスタイルの取り組みが始まっています。ただ これによってますます格差は広がっていると感じています。端末やインターネット環境の問題もありますが ことはそれだけでは解決しないと思っています。
日本の教育システムは全国共通です。明治時代(1868年~)からこれまで、教育システムが大きく変わったことが2度あります。一度目は明治維新後、明治5年(1872年)の「学制」発布。簡単に言えば それまでの学問所・藩校や寺子屋から近代的学校制度の構築。二度目は第二次世界大戦後。小学校から大学までほぼ一本道の6・3・3・4制の単線型教育になった時です。それにはやはりお手本がありました。一度目はフランス。二度目はアメリカでした。
既存のシステムに一部でも変更を挑むのは大変なことです。
私は東京都内の100年以上の歴史ある大学付属中学高校に長らくいました。初めてクラス担任になった年のこと 一人の生徒が父親のロサンゼルス五輪準備のために ニューヨークに転校することになりました。それまで「休学・復学」制度はなかったので 転学するということはすなわち事実上 退学することを意味しました。そこでこの生徒の転学をきっかけに 新しく「休学・復学」制度の導入を実現しました。
2005年、私は愛知県で中等教育学校の設立にあたりました。いくつかの新しいプロジェクトにチャレンジしました。その一つが電子印鑑導入です。新型コロナを受けて「ハンコ文化」の見直し論議がありますが 当時 電子印鑑導入は至難の業でした。しかし 何とか開校までに電子印鑑導入が実現できました。
国内では「9月入学」の気運が一部で高まっています。英語教育やプログラミング教育の小学校導入などが実現しましたが どこにも反対する勢力はあります。しかし「9月入学」を 10代に反対する声が多いのはなぜなのでしょうか?
私は「海外留学」を目指す生徒・学生が減少していることと根っこは同じだと思っています。若者に意見をまとめると 基本的に「楽しく平和な毎日に満足しているので現状を変える必要はない」ということが背景にあるようです。これは若者だけを責めることはできません。なぜかって?それはそのような教育がなされていないからです。日本の教育関係者は「コンピュータ的思考」の重要さを心得ておく必要があります。
「コンピュータ的思考」は自由な発想を育てるのです。それも早い段階、初等教育での学びに欠かせないのです。私は「9月入学」は避けて通れない課題だと思っていますが、それ以前に 本当に今の教育で大丈夫ですか?と問いたいのです。「新型コロナ」は教育の在り方についても問う形になっています。
次回は「ビーバー(べブラス)チャレンジ」とコンピュータ・サイエンスに力を入れているエストニアの教育から学ぶことについてお話しいたします。
【English Version】
The flow of "online lessons" and "telework" that have been held in some parts until now is rushing to Japan as a byproduct of the New Coronavirus. It is inevitable that this will become established in Japan as an irreversible lifestyle.
Last year, our center's "online *terakoya" began to correct the regional gaps in education, but after the school was closed, the same style of initiatives has started in various places. However, I feel that the gap is widening as a result. There are problems with the terminal and the Internet environment, but I think that alone does not solve it.
*terakoya…Terakoya is a small private school in Edo period in Japan. Classes were held normally in temples. We can call it a temple school.
The Japanese education system is common throughout the country. There have been two major changes to the educational system since the Meiji period (1868 onwards). After the Meiji Restoration for the first time, the "school system" was promulgated in 1872. To put it simply, build a modern school system from the previous learning centers, clan schools, and terakoya. The second time is after World War II. It was the time when it became a single-track education of 6/3/3/4 system, which is almost straight from elementary school to university. After all, there was a model. The first time is France. The second time was America.
It's difficult to change even a part of an existing system.
I was in a secondary school affiliated with a private university in Tokyo established over 100 years ago. The year when I became the first class teacher One student was transferred to New York to prepare for my father's Los Angeles Olympics. Until then, there was no "closed / return to school" system, so transferring to another school meant effectively leaving school. Therefore, with the opportunity of this student's transfer, we introduced a new system of "leave of absence / return to school".
In 2005, I founded a secondary school in Aichi prefecture. I challenged some new projects. One of them is the introduction of electronic seal stamps. In response to the new Corona, there is debate over the "hanko culture," but at that time, introducing an electronic seal was a difficult task. However, I managed to introduce an electronic seal stamp before the school opened.
In Japan, the enthusiasm for "Enrollment in September" is rising in some areas. The introduction of elementary schools such as English education and programming education has been realized, but there are powers that oppose them. However, why are there many people who oppose the "Admission in September" to teens?
I think that the root is the same as the number of students who are aiming to study abroad is decreasing. Basically, it seems that the background is that you do not need to change the current situation because you are happy and peaceful every day. This cannot just blame young people. Why you ask? That is because such education is not provided. Educators in Japan need to be aware of the importance of "Computing thinking."
"Computing thinking" fosters free thinking. That is also essential for early primary school learning. I think "September enrollment" is an unavoidable task, but before that, is it really okay with the current education? I would like to ask. "New Corona" is also a form that asks about the ideal way of education
Next time, I will talk about the "Beaver Challenge" and what we can learn from the education in Estonia, which is focused on computer science.